March 7, 2015
A Pilgrim's Journey: Music of Distler, Vaughan Williams and Byrd
with Canto Armonico and guest conductor Debra Lenssen
The lovely, transcendent "Shepherds of the Delectable Mountains" by Ralph Vaughan Williams anchors this program, showcasing many of the fine soloists of Canto Armonico's ensemble. First performed in 1922, it was recast almost 30 years later in the complete "Pilgrim's Progress" using much the same harmonic language – but how novel the polychordal sounds referencing heaven were to the Britons in 1922 we can only guess. Richard Giarusso, who sang the role of the Pilgrim as a student at Harvard, returns to reprise it with a different cast. Now professor at Peabody Conservatory/Johns Hopkins University, Richard was one of the original members of Canto Armonico. We are delighted to welcome him back to Boston.
Opening the program are selections from Hugo Distler's influential Mörike-Chorliederbuch, premiered to great acclaim in Graz in 1939 yet unfamiliar to many here in the USA. Eduard Mörike (1804-1875) was a Lutheran pastor, professor of German literature, and highly regarded writer; Distler uses 39 of his lyrics for the songbook, broken into sections for full chorus, women's chorus, and men's chorus. Our conductor Debra Lenssen, a Wellesley College graduate now teaching and directing opera in Lancaster, Pennsylvania, is a specialist in the choral music of Distler. The remainder of Canto Armonico's program is devoted to music by Tudor composer and Roman Catholic William Byrd, including the astonishing and highly personal late motet "Infelix Ego."
June 15, 2014
A North German Organvespers for the Feast of St. John the Baptist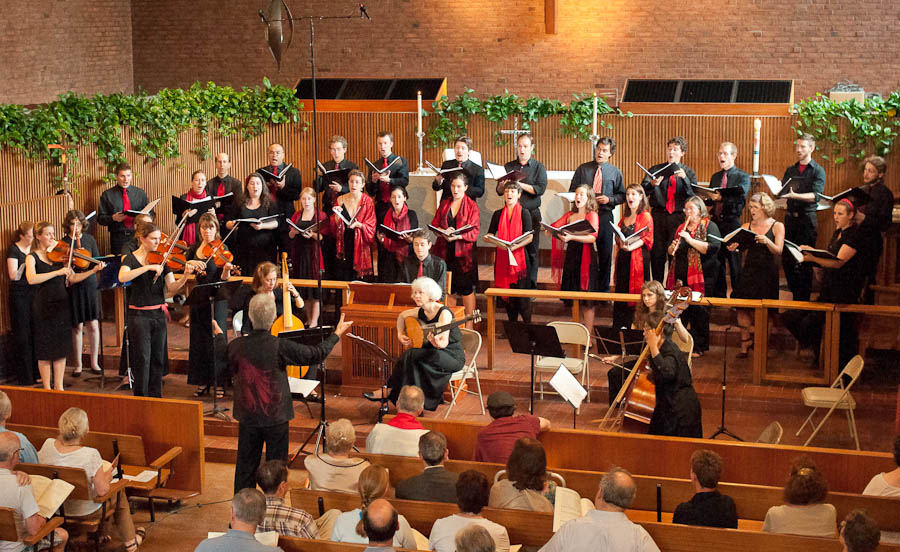 Canto Armonico reprises its successful Organvespers from the Early Music Festival week of 2011, now in a setting for the feast of the Nativity of St. John the Baptist which falls on June 24th. To be held at First Lutheran Church, the program is structured like a German vespers service from the Hamburg area in the late 17th century. The feast of the Nativity of St. John the Baptist, like the feast of St. Michael at the end of September, marked the end of a fiscal quarter in much of Germany, and enterprising church music directors could reserve funds to supply more elaborate music for those feasts, bringing in professional singers and instrumentalists to augment the regular choral and organ music in the churches and cathedrals. Thus the long Pentecost season, lasting from June to the end of November, could be distinguished by two festal dates.
We also celebrate the 350th anniversary of the death of Heinrich Scheidemann, highly regarded organist of the St. Catherine's in Hamburg and former student of Sweelinck whose compositions for the organ chorale introduced an expressive, virtuosic ornamentation style embraced by his followers across northern Germany.
Canto Armonico is pleased to present this program as a fringe event during the Boston Early Music Festival, with music ranging from chant to polychoral motets. We will be joined by an instrumental consort of recorders, gambas, theorbo and harp, and the unique Opus X Richards & Fowkes organ, one of the finest instruments in the world for the rendering of 17th-century German repertory.
Jakob Handl: Emitte Spiritum
Michael Praetorius: Der heil'ge Geist von Himmel kam
Michael Praetorius: Komm, heiliger Geist
Heinrich Schütz: Becker Psalm 111: Ich will vom Herzen
Hieronymus Praetorius: Jubilate Deo
June 14, 2013
New Carpathian Consort: From East to West
This exciting program will explore Hungarian vocal and dance music from the 17th-18th centuries and rarely performed Western vocal music of the time. The first half of the program will include songs by Horváth Palóczi (Ötödfélszáz énekek), selections from Harmonia Coelestis by Prince Paul Esterházy, early recruiting dances by George von Apponyi, songs about László von Árpádház, Hungarian songs by Bálint Balassi, Dances from the 1670 Vietoris Codex and keyboard music from the 1694 Starck Codex. The second half will explore influential vocal genres by Giovanni Castoldi, Claudio Monteverdi, Tommaso Bernardo Gaffi and Jean Baptiste Morin.
Members of the Carpathian Consort:
Emese Pászthy-Kovács, soprano (Budapest, Hungary)
Rebecca Shaw cello (Budapest, Hungary)
Bálint Karosi, harpsichord, organ (Boston, MA)
Audrey Fernandez-Fraser, soprano (Boston, MA)
Heloise Degrugillier, recorders (Boston, MA)
November 11, 2012
Works of Johann Sebastian Bach
Peter Sykes: Pedal Clavichord and Organ Recital
co-sponsored with the Boston Clavichord Society
Program:
Toccata in C major, BWV 566
Liebster Jesu, wir sind hier, BWV 731
Valet will ich dir geben, BWV 736
Erbarm dich mein, O Herre Gott, BWV 721
Allein Gott in der Höh sei Ehr', BWV 717
Allein Gott in der Höh sei Ehr', BWV 711
Allein Gott in der Höh sei Ehr', BWV 715
Pastorale, BWV 590
Toccata in C major, BWV 566
November 10, 2012
Simon Carrington directs Canto Armonico: Music of Hubert Parry, William Byrd and Christopher Theofanidis
Under the spirited direction of Simon Carrington, Canto Armonico presents the Boston premiere of Yale composer Christopher Theofanidis' song cycle Messages to Myself, alongside the masterful collection of six motets called Songs of Farewell by Sir Charles Hubert Hastings Parry, written during World War I. The program is capped by William Byrd's celebratory motet "Laudibus in sanctis Dominum," based on Psalm 150.
October 28, 2012
Festival Reformation Service
The soloists  of FLC's Artist in Residence Exsultemus and the FLC Choir will perform Bach's cantata Ein Feste Burg ist unser Gott, BWV 80 for the second time in five years for the festive worship setting. An ensemble of period instruments will accompany the service.
September 3, 2012
Labor Day Concert: Bálint Karosi plays J. S. Bach and Bálint Karosi with Paul Perfetti, trumpet
First Lutheran's traditional Labor Day concert will feature works by J. S. Bach and original compositions by Bálint Karosi, including two world premiere performances and a Boston premiere performance. Emmanuel Music trumpet soloist Paul Perfetti will join First Lutheran's Minister of Music, Bálint Karosi on the organ. Root beer floats reception follows the concert in FLC's Back Bay courtyard.
Program:
Toccata Adagio and Fugue BWV 564 (J. S. Bach)
"Prisms" Ceremonial Processionals for trumpet and organ (Boston premiere)
Organ Symphony on a Chorale by Béla Bartók (2012, world premiere)
I. Prelude
II. Chorale and variations
III. Scherzo
IV. Berceuse
V. Toccata
Tromba Lontana (2011, world premiere)
Improvisation on a submitted theme